OUR POPULAR PRODUCTS IN EMMA EXPO 2012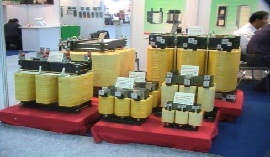 We Participated in EMMA EXPO 2012. The event, held at the Bangalore International Exhibition Centre in the Indian state of Karnataka, was jointly organized by TAITRA and other associations of Machine industries.
Transformers
Cast Resin Transformer
K- Factor Transformer
Ferro resonant Transformer
Chokes
Filtering Choke
Rectifier /Capacitance Choke
High Frequency Choke
Other Products
Induction Voltage Regulator
Power Filter System
Uninterruptible Power Supply
Our Products
Our range of products comprises of Electrical Chokes, Electrical Inductors and Electrical Transformers. Our products are widely demanded by various industries like Electronic Engineering industry, Process Automation industry, Testing & Instrument Manufacturing industry and Machine Tool industry.
Transformers
| Icon | Title | Description | Cost |
| --- | --- | --- | --- |
| | Dry Isolation, Auto Transformer | An isolation transformer is a special type of impedance matching transformer that is used to couple telephone equipment to electronic equipment. It is made with a primary winding that may or may not have a DC voltage impressed upon it. | - |
| | Cast Resin Transformer | Cast-resin power transformers encase the windings in epoxy resin. These transformers simplify installation since they are dry, without cooling oil, and so require no fire-proof vault for indoor installations. | - |
| | K- Factor Transformer | These specialized transformers feature conductors capable of carrying the harmonic currents of non-linear loads without exceeding the temperature rating of the insulation system. | - |
| | Rectifier Transformer | Rectifier Transformers are combined with a diode or thyristor rectifier. The applications range from very large aluminium electrolyses to various medium-size operation. | - |
| | Ferroresonant transformer | Ferroresonant transformers are a special type of laminated transformer which provides a regulated output. These are sometimes known simply as "ferros", or "CVTs" (constant voltage transformers). | - |
| | Toroidal Transformer | Toroidal transformers are passive electronic components, typically consisting of a circular ring-shaped magnetic core of high magnetic permeability material such as iron powder or ferrite, around which wire is coiled to make an inductor. | - |
| | Oil Type Transformer | Oil cooled Transformer is handling higher power, or having a high duty or high volvtages and generate high heat. In order to cool the transformer, we use oil as the coolant. | - |
Chokes and other Products
| Icon | Title | Description | Cost |
| --- | --- | --- | --- |
| | Filtering Choke | A Filtering choke is a version of a passive two-terminal electronic component called an inductor which is designed specifically for blocking higher-frequency alternating current (AC) in an electrical circuit, while allowing lower frequency or DC current to pass. | - |
| | Rectifier choke | A Rectifier choke is the common name given to an inductor that is used as a power supply filter element. They are typically gapped iron core units, similar in appearance to a small transformer, but with only two leads exiting the housing. | - |
| | High Frequency Choke | The advantages of an HFC core are its high saturation flux density, low core losses, high DC Bias characteristic, and excellent inductance stability at elevated temperatures. | - |
| | Induction Voltage Regulator | I.V.R. is an On-load, Stepless Voltage Variation and Current Regulating Equipment. Its Design is close to an Asynchronous Motor with a Wound Rotor.I.V.R. works like a Rotating Field Transformer. | - |
| | Induction Voltage Stabilizer | Inductive Voltage Stabilizer has features of Big Capacity,high efficiency,no wave distortion,stable voltage regulation,no special maintenance request and etc. The main mechanism inside is IVR with brushless type components, therefore hardly any damage would occur even under long term usage. | - |
| | Power Filter System | Power Filter System can be applied to small, medium or large applications and are suitable for both industrial and commercial installations in LV networks. They can also be employed in MV networks through the use of a coupling transformer. | - |
| | Uninterruptible Power Supply | Intelligent and efficient network power protection from entry level to scaleable runtime. Ideal UPS for servers, point-of-sale, routers, switches, hubs and other network devices. | - |